IMPROVEMENTS TO my results™ PORTAL – LIFELABS PARTNERING WITH LAB TESTS ONLINE TO HELP PATIENTS LEARN ABOUT DIAGNOSTIC TESTING
LifeLabs is pleased to announce a partnership with Lab Tests Online, a highly-regarded and widely-used health information website resource for patients.  As of March 28. 2020 Lab Test Online content will be available through "my results™", the LifeLabs platform for on-line viewing of laboratory results by patients. 
What is Lab Tests Online?
Lab Tests Online provides in-depth information to help patients and caregivers understand the laboratory tests as an important part of their medical care.
Lab Tests Online content is maintained and curated by the American Association for Clinical Chemistry (AACC), a global non-for-profit organization of laboratory professionals dedicated to clinical laboratory science and its application to healthcare.
The test library included in Lab Tests Online covers most of the routine and specialized tests that are performed in the disciplines of Chemistry, Hematology and Microbiology.  The content is easy to understand by the general public and is regularly updated by the editorial board consisting of experts in the field.
For more information, please visit https://labtestsonline.org/.
Lab Test Online Content Available through LifeLabs' 'my r

e

sults™' Platform
Through direct links associated with their results in LifeLabs 'my results™' platform, patients will be able to find out more information about the clinical utility of the tests performed, what the test results could mean, and in some instances, what the next steps and possible treatment options are.  An example of this is presented in Figure 1.
It is hoped that this information will provide further support to patients, and also help Health Care Providers (HCP) when they discuss test results and specific clinical situations with their patients.
Lab Tests Online is a trusted worldwide resource, originating in the United States. As such, it is important to note that some recommendations in this database are based on the published American medical guidelines, which may differ from those used in Canada.
LifeLabs will be including a disclaimer (e.g. Figure 1 bottom of the page) to indicate to patients that Canadian guidelines may differ from those provided in Lab Tests Online, and that HCPs should be consulted on the Canadian guidelines.
Additionally, the instructions around test preparation and specimen collection may differ between laboratories. Therefore, patients will be instructed to consult LifeLabs Test Information Directory at LifeLabs website (www.lifelabs.com) to obtain the specific preparation instructions.
Accessing Lab Tests Online Through my r

e

sults™
To access lab tests online through my results™, please use these steps:
Step #1
Select a test of interest (e.g. RBC) by clicking the 'Analytics' section of my results™, found at the top of the page. 'Learn More About the Test' will appear below the results.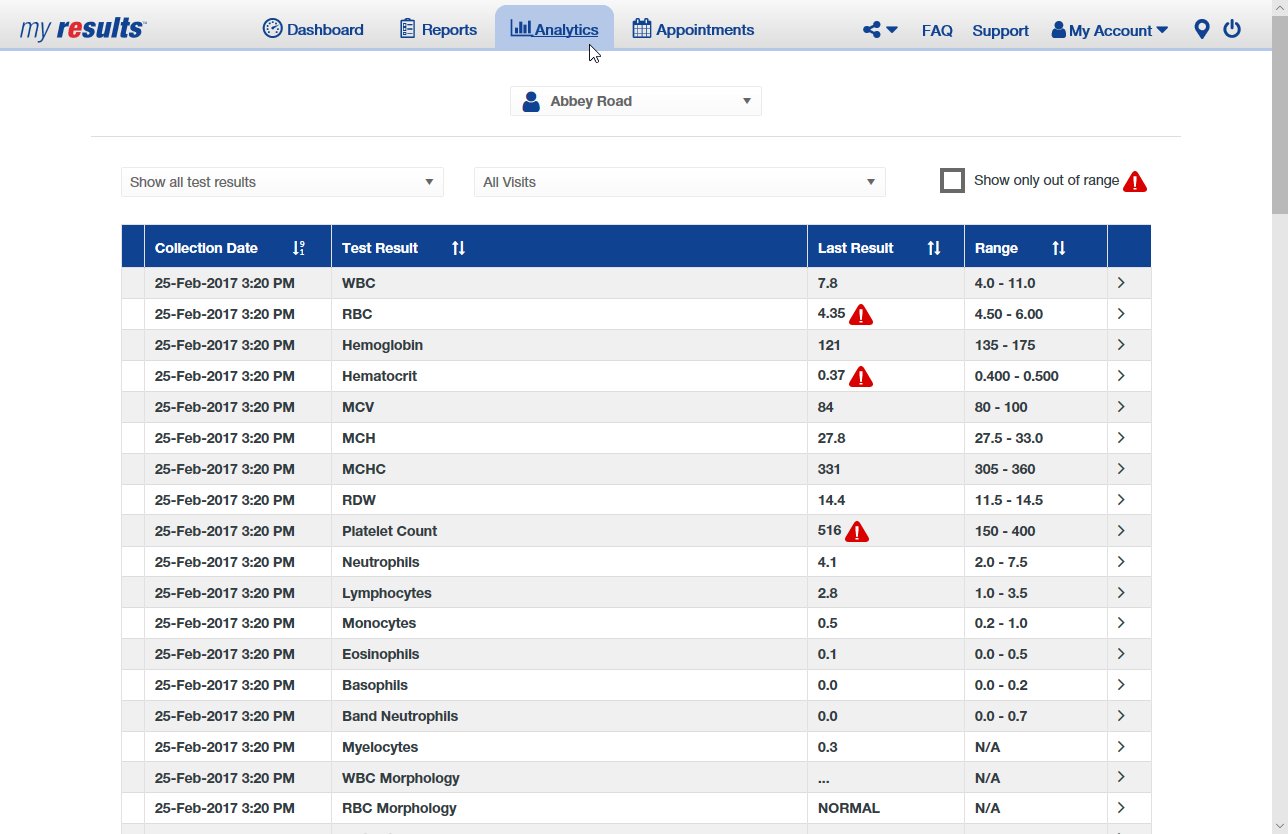 Step #2
Click on the test you want to see (e.g. RBC)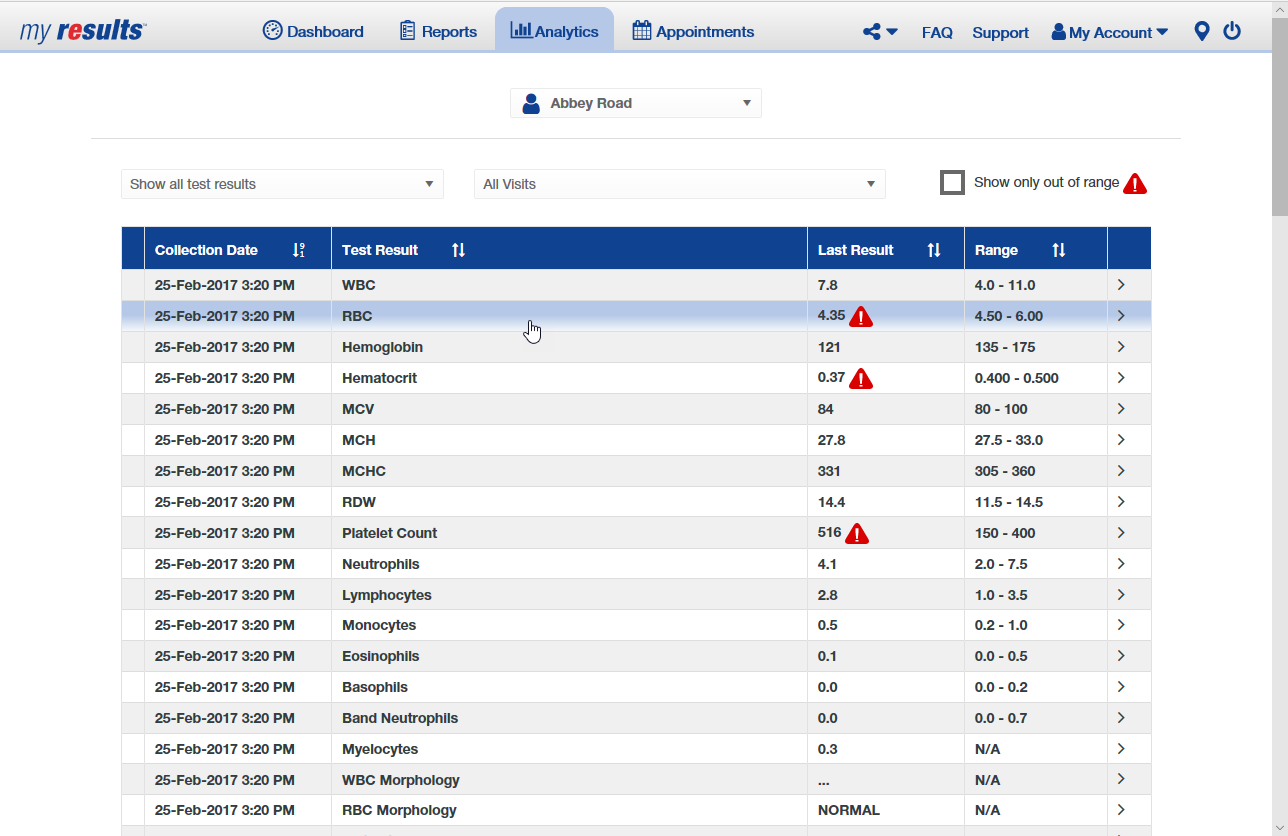 Step #3A
Learn more about the test.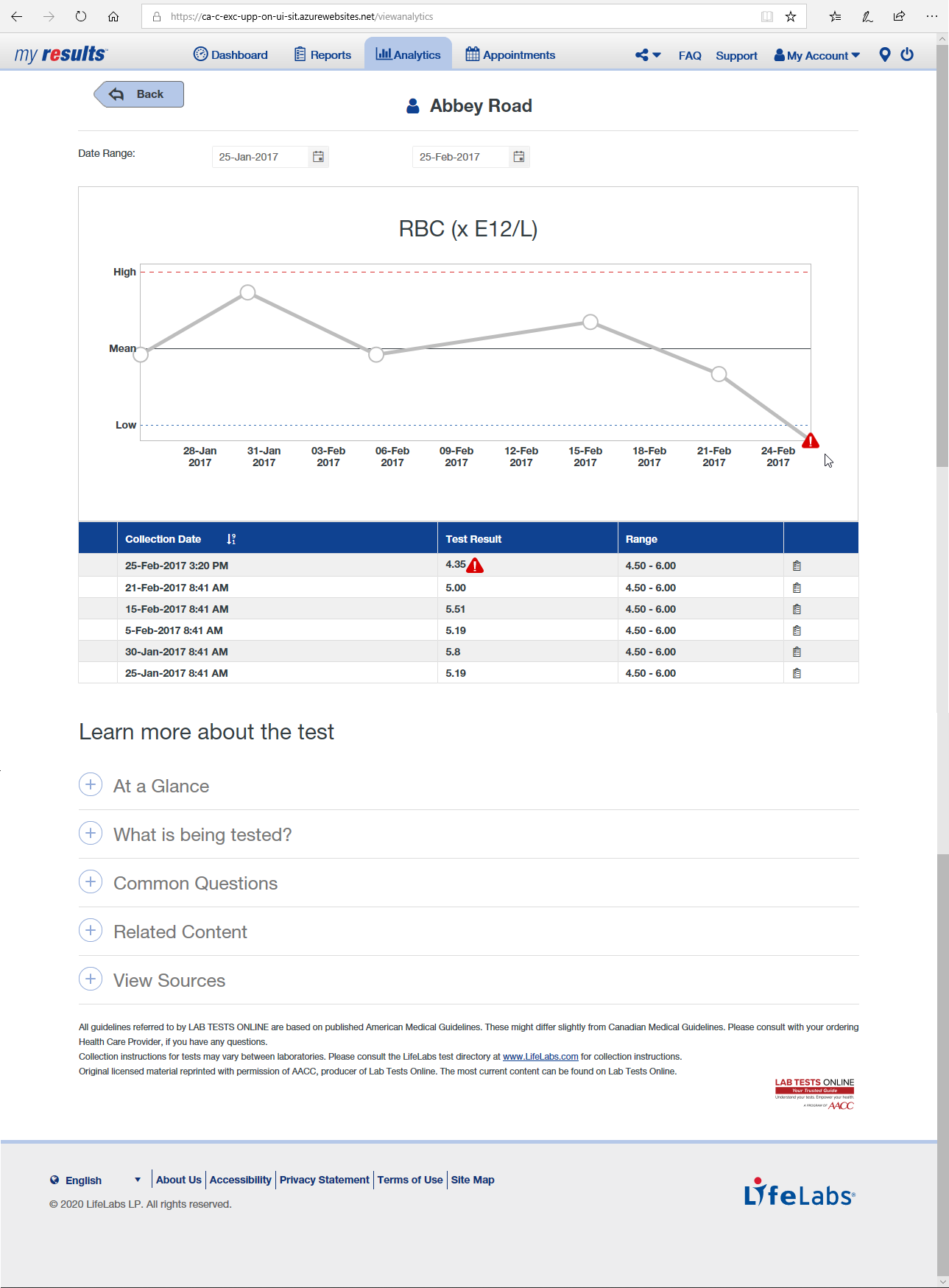 Step #3B
Continue to learn more about the test through expanding the 'Common Questions' section.