Ramadan is the holiest month in the Islamic calendar. It is when Muslims worldwide fast from sunrise until sundown, participate in acts of charity and deepen their spiritual connections. This year, Ramadan began on Thursday, March 23rd!
Ramadan allows LifeLabs' team to unite and celebrate the diversity that makes our organization great. One of our Diversity Equity Inclusion pillars, Build an Inclusive Culture, is centred around respect and awareness. Join us to acknowledge this important holiday and learn about our Muslim team members.
We are grateful for our colleagues who have agreed to share their traditions and knowledge about the holiest month in the Islamic calendar.
Meet Aladdin Elzubeir, LifeLabs' Laboratory operation Supervisor in Hematology in Ontario!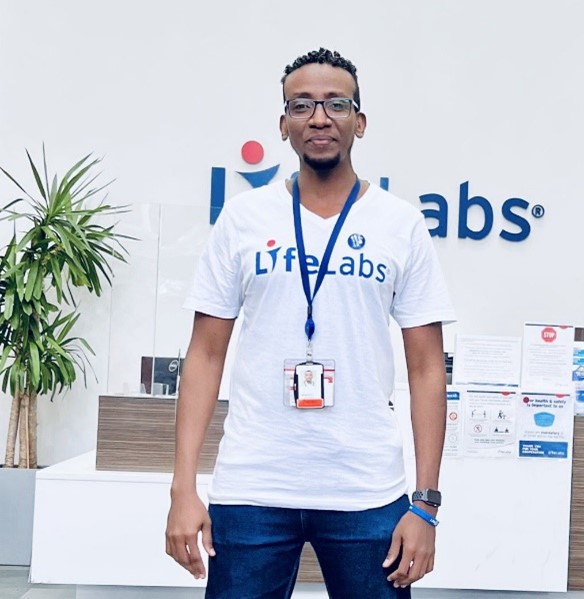 Tell us about yourself!
My name is Aladdin Elzubeir. I was born and raised in Sudan and am proud of my cultural heritage. As an immigrant, diversity is one of our greatest strengths. I am passionate about learning and transferring knowledge, and these pursuits help me better understand and connect with others.
 I joined LifeLabs in 2020 and am excited to be part of this multi-diverse environment. As a previous Medical Lab Technologist in Microbiology and recently a Laboratory operation Supervisor in Hematology, I am eager to contribute my skills and expertise in Laboratory Medicine.
Can you tell us about the significance of Ramadan?
Ramadan is the ninth month of the Islamic calendar and is considered to be the holiest month in Islam. It is a time when Muslims fast from dawn until sunset, abstaining from food, drink, and sexual activity, engaging in extra prayer, recitation and reading of the Quran, and increasing acts of charity. Ramadan is significant for Muslims because it is believed to be the month the Quran was first revealed to the Prophet Muhammad (PBUH). It is a time for spiritual reflection, self-improvement, and increased devotion to Allah.
How do you celebrate Ramadan, and what makes you proud of your faith?
At the end of Ramadan, as Muslims, we celebrate Eid AlFitr. This festive occasion marks the end of the fast and the beginning of a new month in the Islamic calendar. On that day, you will see the diversity of the Muslim community, which includes people from a wide variety of ethnic, linguistic, and cultural backgrounds. What makes me proud about my faith is that Islam strongly emphasizes treating all people with kindness and respect, regardless of their background or beliefs.
How do you prefer to be supported and accommodated during Ramadan?
I believe that providing awareness and education about Ramadan can help foster greater understanding and support for Muslim employees during this time, which eventually will lead to a collaboration between coworkers, which will lead to more flexibility in scheduling and working hours, accommodating meals and prayer breaks.
Generosity and charitable giving are a large part of Ramadan. What are some ways you invest in your community?
Ramadan is also a time for increased community building and social gatherings. Muslims often come together for the evening meal to break the fast "Iftar," sharing food, strengthening their bonds with family and friends, and supporting each other. I, with other friends and families from the Sudanese and other Muslim communities, used to organize community events such as Iftar, which is very crucial to bring people together, followed by donating to charity encouragement, supporting local businesses, and advocating for social justice issues, such as poverty, inequality, and discrimination, which all help raise awareness and bring about positive change in the community.
What does building an inclusive culture for the Muslim community look like to you?
For me, building an inclusive culture for the Muslim community involves creating an environment where Muslims feel welcome, respected and valued for their unique identities and experiences, plus addressing and challenging discrimination and Islamophobia in all its forms. Such things can be achieved by educating people about Muslims' faith, culture, and history. An excellent example is what LifeLabs does by providing space for Muslims to share their experiences and perspectives, which can help break down barriers, promote mutual understanding, and open the door to celebrating diversity.
What words of wisdom do you have for the next generation of aspiring Muslim students or professionals interested in your line of work?
During my Ph.D., I met Mario Capecchi (molecular geneticist and a co-awardee of the 2007 Nobel Prize in Physiology or Medicine). I asked him for advice; He replied: "Keep your smile, do what you love, love what you do, and DON'T rely on your magic lamp" then he laughed.
Even the Confucius quote is obvious, but what I can summarize for the next generation
Stay true to your values and embrace your identity.
Embrace lifelong learning by pursuing your passion.
Seek mentorship and guidance.
Be resilient and a positive role model. Facing setbacks and challenges is inevitable in any career path. Cultivating resilience and developing a positive coping strategy are important to help you bounce back from setbacks and stay motivated.
And most importantly, give back to the community: As a Muslim student or professional, you are responsible for giving back to your community and helping uplift those around you. Find ways to use your skills and knowledge to make a positive impact on others.
Stronger Together
The Diversity, Equity and Inclusion (DEI) journey at LifeLabs is to ensure that all individuals feel accepted, respected and valued by fostering an equitable and inclusive culture for our team members, customers, and partners. Our journey to reinforce our commitments has demonstrated that we are indeed Stronger Together. Furthermore, there is great benefit from understanding and supporting unique perspectives and experiences.
In our five-year DEI strategy, our Stronger Together program is committed to continuing to foster representation now and into the future. Through this plan, we are working to ensure that the outcomes across mentorship, succession planning and investing in early education to build healthy pipelines of future talent create a foundation where all LifeLabs employees have the opportunity to embrace equity and achieve their full potential.