In the spirit of Diwali, we would like to share a heartwarming spotlight on how one of our colleagues, Jogesh Dhir, Sr. Strategic Sourcing Specialist at LifeLabs Ontario, celebrates this vibrant festival that symbolizes the triumph of light over darkness and the power of unity. This spotlight is not just about a single individual but also reflects the unity and diversity that enrich our workplace and the world.
Thank you Jogesh for sharing your family's culture and traditions with us! Happy Diwali!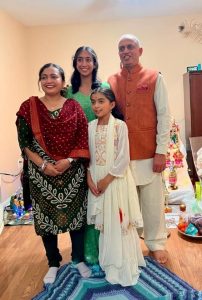 Can you share the significance of Diwali and what it means to you personally?
Diwali symbolizes the spiritual victory of light over darkness, good over evil and knowledge over ignorance. The lights of Diwali signify a time to destroy all our dark desires and thoughts, eradicate dark shadows and evils and give us the strength and the zeal to carry on with our goodwill for the rest of the year.
During the festival, the celebrants illuminate their homes, temples, and workspaces with diyas (Clay lamps), candles and lanterns. Diwali is also marked with fireworks and the decoration of floors with rangoli designs.
Food is a major focus, with families partaking in feasts and sharing sweets. The festival is an annual homecoming and bonding period for families and friends.
For our family, it's another opportunity to spend time with each other and enjoy sweets and meals together. We clean the home and decorate with lights and diyas and visit a temple in the evening for prayers and get together with friends. 
What are some of your favourite traditions and rituals associated with Diwali?
One of my favourite rituals includes lighting diyas inside the house and enjoying meals. After prayer at home, we visit a temple in the evening to join the festivities and enjoy the meal there. We wear traditional clothes on Diwali. We visit our friends and share sweets. In the evening, once we return home from the temple, we do fireworks in the nearby park.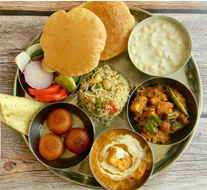 Could you describe the delicious foods and sweets typically prepared during Diwali?
The Diwali festivities lead up to a couple of weeks in advance. For Diwali, people cook special traditional meals and sweets. My wife typically cooks the food most enjoyed by the kids, including Puri (Fried bread), a Panner (Cottage cheese) curry, Chickpeas or vegetable curry and a dessert, which is typically Kheer (Rice Pudding) or Halwa (a traditional Indian dessert made from semolina and nuts). Since the sweet shops make special sweets which are only available during Diwali time, we buy lots of sweets which we enjoy for the next two to three weeks.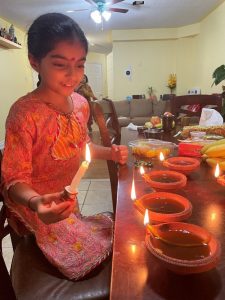 How do you decorate your home for Diwali, and what are the most important decorations for you?
We decorate the outside of the home with lights (electric) at least a week before Diwali. On Diwali evening, we light diyas inside the house and add some other decorations which we buy from the stores. diyas are my favourite. We soak the diyas in water all day to let them absorb water and, in the evening, light them up using mustard oil.
Are there any special family or community gatherings or events that you look forward to during Diwali?
The temple organizes special festivities on Diwali. We go there in the evening and meet our friends and enjoy the feast (including meals and sweets) cooked for everyone. Apart from that, there are some community events, including dinner get-togethers and shopping events, that we attend if time allows.
Could you share a memorable Diwali experience or story that has had a significant impact on you?
The Diwali Dinner at Temple is always very significant to me. Everyone (irrespective of religion, financial or social status) sits at the same level on the floor (that teaches us to be grounded) and is served food there. This simple ritual of serving food signifies to me that everyone is the same irrespective of their religion or any other status in the community, and it unites the people. Everyone embraces one another with joy and laughter.
What do you wish people from different cultural backgrounds understood about Diwali and its celebrations?
Since Diwali symbolizes the victory of light over darkness, good over evil and knowledge over ignorance, I wish we all can enlighten our inner self, recognize our strengths, get over all the challenges and difficulties in our lives and carry on with our goodwill for the rest of our lives.
STRONGER TOGETHER
In sharing Jogesh's Diwali spotlight, we find inspiration in the unity, joy, and message of Diwali, where light and love bring us all together. This story serves as a reminder of the values that enrich our diverse workplace and lives.
Stronger Together is LifeLabs' Diversity Equity and Inclusion program. The program is rooted in respect, willingness to honestly confront bias, and a commitment to learning. Our vision at LifeLabs is to ensure that all individuals – no matter their race, gender, beliefs, preferences, age, abilities, etc. feel accepted, respected, and valued.