St. Thomas, ON. (March 1, 2019) – Earlier today, LifeLabs celebrated the grand opening of its new collection site in St. Thomas, Ontario, by hosting a ribbon-cutting and celebration inside its new facility on 25 Elm Street.
Joined by local Elgin-Middlesex London MPP, the Hon. Jeff Yurek, patients, staff and community members learned more about the investments LifeLabs is making in the area to improve the patient experience and support local health care providers.
The new collection site offers St. Thomas residents blood collection and Electrocardiography (ECGs) services closer to home.
"It was a couple years ago when the hospital reduced their outpatient services. I reached out to LifeLabs to find a solution, and they wanted to serve the people of this area better," says MPP Jeff Yurek. "You're investing in our community and providing customer service to the patients of this city and Elgin County. It's a great partnership. The province is better a place because you're investing in Ontario and providing better health care for people."
"As a health and technology company, we are laser-focused on how we can improve the patient experience to deliver the best patient outcomes," says Chris Carson, SVP, Partner Relations, LifeLabs. "Here in St. Thomas, our new centre is already reducing the community's wait times by more than 30 percent. Patients rely on us to deliver superbly executed tests and diagnostics as part of their health journeys. The best patient experience requires timely, accurate, secure results."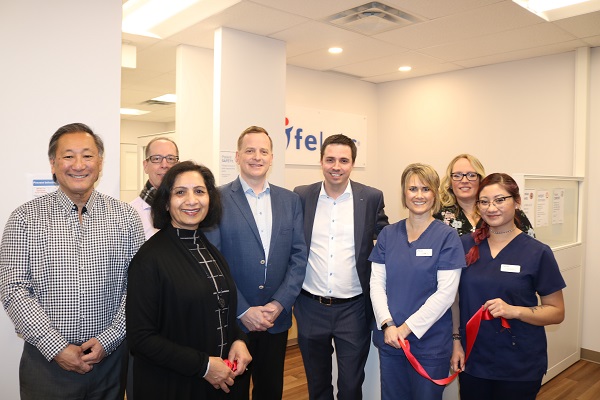 (Left to Right: Dr. Derek Haruta, Chris Griffith, MPP Jeff Yurek, Chris Carson, Krista Bailey
Front: Manju Singhla, Kim Penner, Brenda Card)
In addition to offering online appointment bookings, LifeLabs also announced the launch of a new digital tool that will provide patients in St. Thomas with greater convenience and flexibility. Save My Spottm is a new app that reduces wait time by allowing patients to check-in at a patient service centre before heading out, to reduce wait time in the centre—all from the Save My Spot app or Lifelabs.com.
Quick Facts
Hours of operation: Monday- Friday 8:00 am – 4:00 pm
LifeLabs serves more than 54,000 Ontarians every day at its locations across the province
This location offers the Serving Patients with Autism Program – Canada's first specific and comprehensive guidelines for specimen collection for patients with Autism Spectrum Disorder
Over 1.6 million Ontario residents book their appointment and check their results online through my results
Media Contact
Roy Saad, Manager, Communications
C: 416.803.2721