Penetanguishene, ON. (February 14, 2019) – Earlier today, LifeLabs celebrated the grand opening of its new collection site in Penetanguishene, Ontario, by hosting a ribbon-cutting ceremony and celebration inside its new facility on 101 Thompsons Road.
Joined by local representative MPP Jill Dunlop, patients, staff and community members learned more about the investments LifeLabs is making in the area to improve the patient experience and support local health care providers.
The new collection site will offer Penetanguishene residents blood collection and Electrocardiography (ECGs) services closer to home instead of travelling to Barrie or Wasaga Beach.
"With this new investment by LifeLabs, the residents of Penetanguishene will have less distance to travel for diagnostic services," says MPP Jill Dunlop. "It's another example of how our government is supporting timely access to care."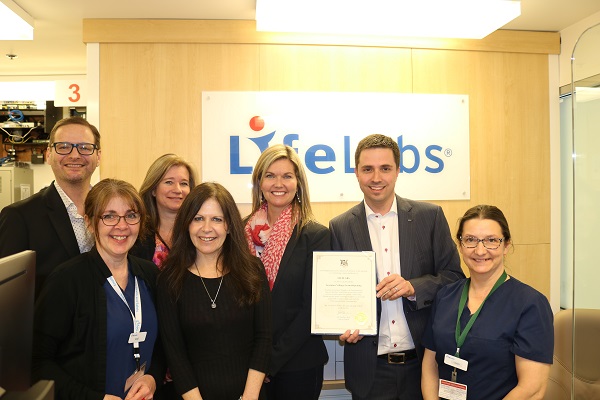 MPP Jill Dunlop presented LifeLabs staff with an official certificate to mark the opening
(Back L to R: Josh MacKay, LifeLabs; Anita Gignac, LifeLabs; MPP Jill Dunlop, Chris Carson, SVP Partner Relation, LifeLabs
Front L to R: Sue McGinness, LifeLabs; Lisa Baldo, LifeLabs; Cindy Moreau, LifeLabs)
"As a health and technology company, we are laser-focused on how we can improve the patient experience to deliver the best patient outcomes," says Chris Carson, SVP, Partner Relations, LifeLabs. "Patients rely on us to deliver superbly executed tests and diagnostics as part of their health journeys. That's why LifeLabs is investing in the best patient experiences and timely, accurate, secure results."
LifeLabs also announced the upcoming launch of a number of digital tools that will provide our patients in Penetanguishene with greater convenience and flexibility:
Save my SpotTM – A new app that reduces wait time by allowing patients to check-in at one of our patient service centres. Once they save their spot, they can wait where they want and head to their local LifeLabs when it's almost their turn—all from the Save my Spot app or Lifelabs.com.
New Patient Portal – Launching soon, the new patient portal simplifies the way a patient books an appointment and accesses their results. Patients can find their nearest LifeLabs location, schedule an appointment and view their results all on one tool – with the same user name and password.
Quick Facts
Hours of operation: Monday-Thursday 7:30 am-3:30 pm, Friday 7:30 am-12:30 pm
LifeLabs serves more than 54,000 Ontarians every day at its locations across the province.
This location offers the Serving Patients with Autism Program – Canada's first specific and comprehensive guidelines for specimen collection for patients with Autism Spectrum Disorder
Over 1.6 million Ontario residents book their appointment and check their results online through my results
Media Contact
Roy Saad, Manager, Communications
C: 416.803.2721
Roy.saad@lifelabs.com