Pre-departure Testing
Available in British Columbia and Ontario.
*NEW*
At home testing with our
MyVisit
TM
service (Currently GTA only)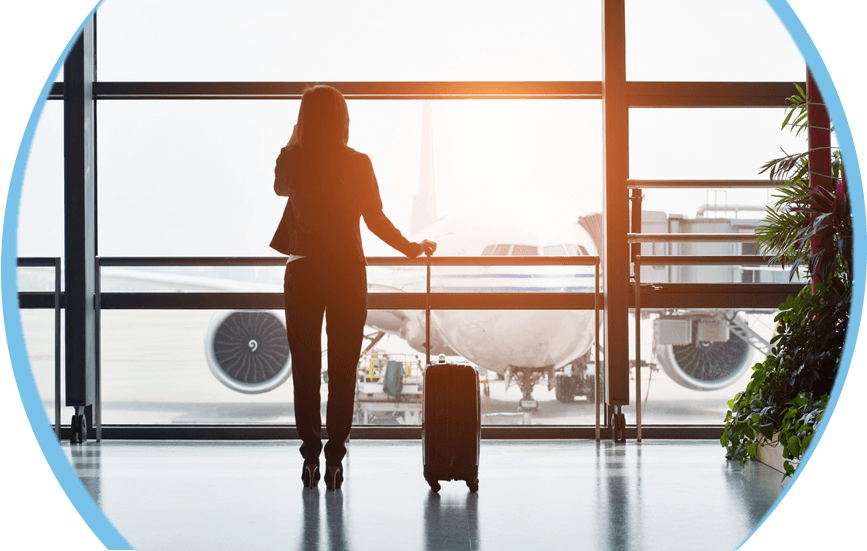 FlyClear™ by LifeLabs®
is proud to offer pre-departure testing services for anyone needing to travel. As COVID-19 continues, airlines or destinations may ask for proof of COVID-19 clearance within a specific timeframe or window. With FlyClear™ by LifeLabs®, you will receive your results within 48 hours, allowing you to travel with peace of mind.
Trusted and Accredited Travel Partner
Fly with confidence, knowing you have highly accurate
and reliable test results from LifeLabs,
a leader in quality control and assurance
, with licensing and accreditation from bodies such as the Ministry of Health and Long Term Care, the Institute of Quality Management in Healthcare, and the College of American Pathologists. Our full list of accreditation standards and copies of licenses can be
found here.
For information regarding FlyClear testing accreditations please see the 
laboratory accreditations
section of our FAQs
Available FlyClear™ Testing Services:
COVID-19 PCR / NAAT swab testing
for active infection
The molecular COVID-19 swab test uses polymerase chain reaction (PCR)/nucleic acid amplification test (NAAT) technology to detect genetic information from the virus. If present, it indicates an active infection.
$150+tax
Order now​
Note: Samples for PCR/NAAT testing are collected via buccal bilateral anterior nasal swab (not nasopharyngeal). It is the responsibility of the traveller to confirm entry requirements of their destination before ordering these tests.
How it works
FlyClear™ offers COVID-19 PCR swab and testing for travel in 4 simple steps!
*COVID-19 travel clearance requirements vary by destination.  It is the responsibility of the traveler to confirm their travel requirements before ordering a test.
FlyClear™ Pre-Departure Testing Locations
**Please note: You must order and pay for your testing PRIOR to booking your appointment.**
Please note: COVID-19 PCT/NAAT swab testing at FlyClear™ locations are:
For customers who have completed their FlyClear™ orders online (i.e. steps 1 and 2)
By appointment, and ONLY available at the FlyClearTM by Lifelabs® locations listed below
FlyClear™ COVID testing appointment can only be booked at locations listed below. You can NOT visit a medical clinic for FlyClear™ COVID testing.
MyVisitTM home testing service is only available within the Greater Toronto Area, Ontario. Click here to book your home visit appointment.
FlyClear PCR / NAAT testing can only be booked at these locations
103-2051 McCallum Rd, Abbotsford, BC V2S 3N5, Canada
FlyClear Customer Support
If you have any questions or require support, please contact our customer service team.

Please note:

COVID-19 pre-departure testing is now available from the comfort of your home with MyVisitTM.

Once you have received your FlyClearTM requisition, please click here to schedule your appointment or, if your flight is within the next five days, contact a MyVisitTM Coordinator at 416-993-9579 (Monday – Friday, 9am-5pm EST) to help schedule your visit.

This service costs an additional $80 per person and currently only available in the GTA.