Every February, LifeLabs recognizes Black History Month as a time to celebrate, learn and honour the legacy of Black people in Canada. 
This year, the Government of Canada announced the theme for Black History Month: "Ours to tell." This theme represents both an opportunity to engage in open dialogue and a commitment to learning more about the stories Black communities in Canada have to share about their histories, successes, sacrifices and triumphs. 
In line with this year's theme, LifeLabs is dedicating this space to spotlight black team members who have graciously opened up to share their heritage, identity and what it means to be part of a Black community here in Canada in their own words. 
JAMAAL PRATT. Laboratory Operations Supervisor
Photo of Jamaal Pratt
How do you identify and what are your pronouns?
I am a Black Canadian male of Caribbean ethnicity and my pronouns are he/him.
Tell us about yourself!
My name is Jamaal Pratt, and I was born in Nassau, Bahamas. I am a hardworking Capricorn, and a firm believer in the saying, "Sometimes things fall apart so that other things fall together." Presently, I am the Nightshift Laboratory Operations Supervisor in Microbiology. I am a former Toastmaster and a 2014 Ontario Association of Medical Laboratories Scholarship Recipient.
Why is identity so important to you?
Identity is important because it helps to define who you are as an individual. Only in recognizing oneself, can one develop a sense of worth, thereby fueling the drive to excel and achieve without limits. Therefore, if we think we can, then we will. In the words of the late Sir Sydney Poitier, a renowned Bahamian actor, "I am the me I choose to be."
I think that one of the most common misconceptions associated with the Black community is the fact that all Blacks tend to be more "aggressive."
This is not true. Often, when we become annoyed or agitated the reaction is usually no different when compared to any other race, however, others tend to further amplify it. As a result, we have been labelled as aggressors in most situations and we have been treated accordingly.
What makes you proud of your heritage?
I am beyond proud of my black heritage because of the diversity displayed through our mouthwatering dishes, rhythmic music, fashionable clothing, and colorful accents & dialect. We are a living, breathing cultural mosaic of artistic expression. As a people, we continue to evolve and overcome the odds proving that #BlackExcellence truly does exist.
What are ways that you like to invest in your community?
I like to invest by helping to spread the awareness and the importance of Black culture and Black History to my colleagues so that they can in turn develop a greater appreciation for the Black communities, here, in Canada.
If you could give your 20-year-old self any advice, what would it be?
"Never give up on your dreams. Spend more time around people who uplift you and enjoy your authentic self."
What words of wisdom do you have for the next generation of aspiring Black students or professionals interested in your line of work?
"Quiet the noise and focus on cultivating a life that feels nourishing."
BROOKE GRAHAM. Diversity, Equity, Inclusions Manager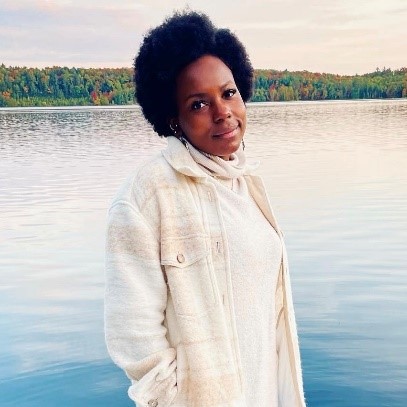 Photo of Brooke Graham
How do you identify and what are your pronouns?
I identify as a Black Canadian settler with Caribbean ancestry and my pronouns are she/her.
Tell us about yourself!
I am the Diversity, Equity, Inclusion Manager at LifeLabs. I'm the oldest child of 2 to two parents who immigrated to Canada – my mother was born in the UK and moved to Canada when she was 17 and my father was born in Jamaica and moved here when he was 7.
Why is identity so important to you?
Every person has something unique that they bring forward. The true achievement of diversity is not within our headcount of folks from equity-deserving groups, it's achieved in the recognition of each one-of-a-kind individual at our organization and the trust fostered, which allows all of us to confidently show up with those identities. For me, I do have pride in my Blackness as a core part of who I am, as it is the lens that I see the world and also how the world perceives me.
What are ways that you like to invest in your community?
I invest in my community by deepening my connection to it.
It wasn't until the murder of George Floyd in 2020 when I realized how much I needed my community.
 A place where people could express Black-specific feelings and experiences and it resonated with others, where we could be honest about the difficulties and barriers that stem from anti-Black racism and where I could be myself. My whole self.
What does building an inclusive culture for the Black community look like to you?
What I aim to do in my work is break down what inclusion means and define how we can work to achieve it. When I think of the Stronger Together vision, it is: to ensure all individuals at LifeLabs feel accepted, respected and valued by fostering an equitable and inclusive culture for our team members, customers, and partners – this means that building an inclusive culture is the achievement of a workplace environment that team members trust to be respectful and meet the unique needs of equity-deserving groups and this is what I am striving for DEI at LifeLabs.
What words of wisdom do you have for the next generation of aspiring Black students or professionals interested in your line of work?
Your talent is abundant, it is opportunity that is not – and we're working to fix that. Above all, please remember that being Black is not a barrier, white supremacy and institutionalized racism are the barriers. You're not broken, the system is broken. And despite all of that, with community, self love and discipline, you will be able to achieve everything you've ever dreamed of.
Stronger Together
LifeLabs' is grateful and inspired by our team members for sharing their stories. The Diversity, Equity and Inclusion (DEI) journey at LifeLabs is to ensure that all individuals feel accepted, respected and valued. By fostering an equitable and inclusive culture for the team members, customers, and partners, our collective community benefit from understanding the unique perspectives and experiences.  The journey to reinforce DEI commitments has demonstrated that at LifeLabs, we are indeed Stronger Together.