Meet Nehal and Janki – the mother-daughter duo at LifeLabs! Nehal Patel is an ambitious Client Services supervisor in Ontario who loves yoga and exploring new places. Janki Patel is a Home Care Coordinator in Ontario and has been with LifeLabs for five years; and enjoys hiking, kickboxing, and travelling. She joined her mom at LifeLabs on "Take your Kids to Work Day" in Gr. 9 and is now a part of the LifeLabs family! They're the ultimate work duo who balance each other out perfectly.
Nehal stumbled upon a job opening 20 years ago during her bloodwork visit, and Janki applied for a student position after her mom urged her to find a job. They've been working together ever since!  Find out about the pros and cons of working together, including the ultimate perk of ride-sharing.
Thank you for all you do, Nehal and Janki, and happy Mother's Day!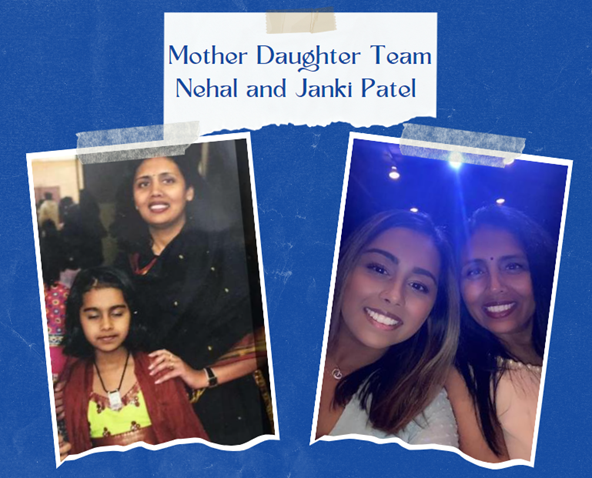 How did you end up working together at LifeLabs? 
Nehal: 20 years ago, I went to a MDS (now LifeLabs) location for my bloodwork and was fortunate to meet a lady who told me they were currently hiring – LifeLabs was the first company I applied for after landing in Canada, and I have not looked back since.
My eldest daughter has always felt strongly about diversity, equity, and inclusion, so when I took her to work with me for "Take Your Kid to Work Day" she knew it was the perfect place to work and started her career with LifeLabs as a student.
Janki: My mom and I were sitting at home one day, and she turned to me and said, "Janki, it's time for you to find a job." She sent me a link to a posting at Lifelabs for a student position. I applied thinking it would only be for summer. Five years later, I'm still here!
Let's spill the beans. What are the pros and cons of working together?
Nehal: The biggest positive is the experience we've both accumulated by working in different departments and how that can be useful to help and support one another. There aren't any negatives to working with my daughter – I love to see her grow and flourish like she is destined to.
Janki: 
Pros: RIDE SHARE (saving on gas ifykyk: that's 'if you know you know' for those of you who don't know), support, and family memories
cons: nothing I love working with my mom
What makes you proud of your mom?
Janki: My mom, an immigrant from India and a woman of colour worked really hard to get to where she is. When we first moved to Canada, I was only three. She worked in a factory while studying to get the Ontario Society of Medical Technologists designation. She then went on to join LifeLabs as an MLPT and has worked in many different departments and roles that she never thought she could have. It makes me so proud to think that my mom is where she is now.
What makes you proud of your daughter? 
Nehal: During COVID, when LifeLabs was testing for NHL, Ministry of Education, and Federal Borders, she stepped out of her comfort zone to follow the values she strongly believes in and helped the community. At a time when everyone feared the ongoing COVID situation, she stayed committed until the end.
What is the best tip your mom has given you?
Janki: The best tip my mom gave me, and I'll give everyone, is to let bygones be bygones and not dwell on the past because you can't change the past, but you can certainly change the future.
What is the best tip your daughter has given you?
Nehal: To fight through whatever challenges life throws at me with calmness and strength. 
Janki's Mother's Day message to Nehal!
"Thank you for being my mom, mentor, and role model. Happy Mother's Day to the woman I admire the most!"
As we celebrate Mother's Day this month, we want to take a moment to recognize and celebrate all mothers and mother figures. We appreciate your love and devotion to your families and the sacrifices you make every day. Your strength, kindness, and unwavering commitment inspire us all at LifeLabs. Whether you are a new mother or have been one for many years, we want to acknowledge your impact on the world around us. On this special day, we wish you all a Happy Mother's Day, filled with love, joy, and appreciation for all that you do!