This new Patient Service Centre reflects LifeLabs' commitment to provide expanded access and testing services to our community.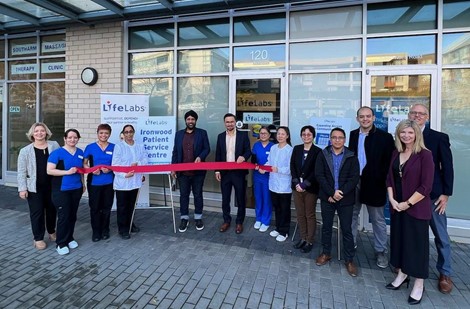 Richmond, BC. November 1, 2022 – LifeLabs is bringing care close to home and expanding access to high-quality diagnostics tests for the residents in Richmond. LifeLabs celebrated the opening of its new Ironwood Patient Service Centre in Richmond accompanied by Mr. Aman Singh, MLA for Richmond-Queensborough and Mr. Kyle Nguyen, Director of Operations, Pacific Autism Family Network.
"The celebration is an important step in LifeLabs' journey to continue to make diagnostic testing throughout British Columbia accessible, equitable, and of the highest quality" said Thomas Marshall, Vice President, Partnerships and Contracts BC at LifeLabs. "Our new Ironwood Patient Service Centre includes a unique collection room designed to better serve our customers with autism spectrum disorder as part of our continuing partnership with Pacific Autism Family Centre and our Serving Patients with Autism program." 
"I'm thankful for LifeLabs commitment to providing caring, efficient, reliable and high-quality services to our community," says Aman Singh, MLA for Richmond-Queensborough. "Ironwood Patient Service will serve the growing population of Richmond, providing the necessary diagnostic testing closer to home."
For over 50 years, LifeLabs has served the diagnostic healthcare needs of community members across Canada. Our BC LifeLabs collection centres welcome over 20,000 customers daily. At the same time, our seven labs run approximately 150,000 tests daily to deliver reliable results to our customers.
Quotes
"LifeLabs is a vital collaborator for the Pacific Autism Family Network in B.C. Their commitment to serving patients with autism in a safe and positive environment with a dedicated trained staff allows for successful procedures and a stress-free experience."
Kyle Nguyen, Director of Operations, Pacific Autism Family Network B.C
"Our Ironwood Patient Service Centre staff are here to support our clients through their healthcare journey. They care about the individual needs and expectations of everyone who enters our doors"
Louise Nagy, Director of Client Services, LifeLabs
Patient Service Centre Information
Ironwood PSC is located in Unit #120 10880 No 5 Road in Richmond. Ironwood PSC is an Appointment Centre and is open Monday to Friday from 7:00 a.m. to 5:00 p.m. and on Saturdays from 7:00 a.m. to 12:00 p.m. The location provides blood collection, Holter monitoring and electrocardiography services.
LifeLabs worked with the Pacific Autism Family Centre Foundation to improve the patient experience of patients with Autism Spectrum Disorder (ASD) who require blood collection. As a result, we have developed specialized collection protocols for patients with ASD. In BC, there are currently an estimated 56,000 people with ASD.
About LifeLabs
LifeLabs annually serves over 7.1 million patients in BC at 129 collection centres located in urban and rural communities. LifeLabs also provides mobile collection services for vulnerable individuals unable to visit our collection services. LifeLabs conducts testing in 7 laboratories located in Burnaby, Surrey, Victoria, Prince George, Kamloops, Terrace and Nanaimo. In BC, LifeLabs annually processes more than 35 million tests. LifeLabs is one the largest technology employer in BC, with close to 3,150 employees working in communities throughout the province.
Media Contact
LifeLabs Media Team
Media@LifeLabs.com