Join us this September 28 at LifeLabs' Healthcare Providers' Conference to discuss important topics in laboratory medicine with members of our Medical Scientific team! 
Spots are limited so email us to register for free today! Email

Jolie.Quinton@lifelabs.com

 
Date: September 28, 2023, from 5:00 – 9:00 P.M. PST.  
Location: The Oak Bay Beach Hotel on 1175 Beach Drive., Victoria, B.C 
Buffet dinner will be provided on behalf of LifeLabs by the Oak Bay Beach Hotel. 
About: This annual conference is designed with primary care providers in mind, such as general practitioners, nurse practitioners, naturopaths, and other allied health professionals who regularly order and interpret laboratory tests; and it is an educational opportunity for healthcare providers designed to bridge the information gap between laboratory medicine and clinical practice.  
Who: Notable presentations and discussions will be hosted by some of LifeLabs' specialists in Biochemistry, Hematology, Microbiology/Infectious Diseases and Molecular Diagnostics. Presentations will use a case-based format to address clinically-oriented topics in laboratory test selection and interpretation.  
Following the complimentary buffet dinner, guests will be enjoy interactive presentations on topics ranging from common chemistry tests to panel-based testing for infectious disease from the following speakers. See the schedule below: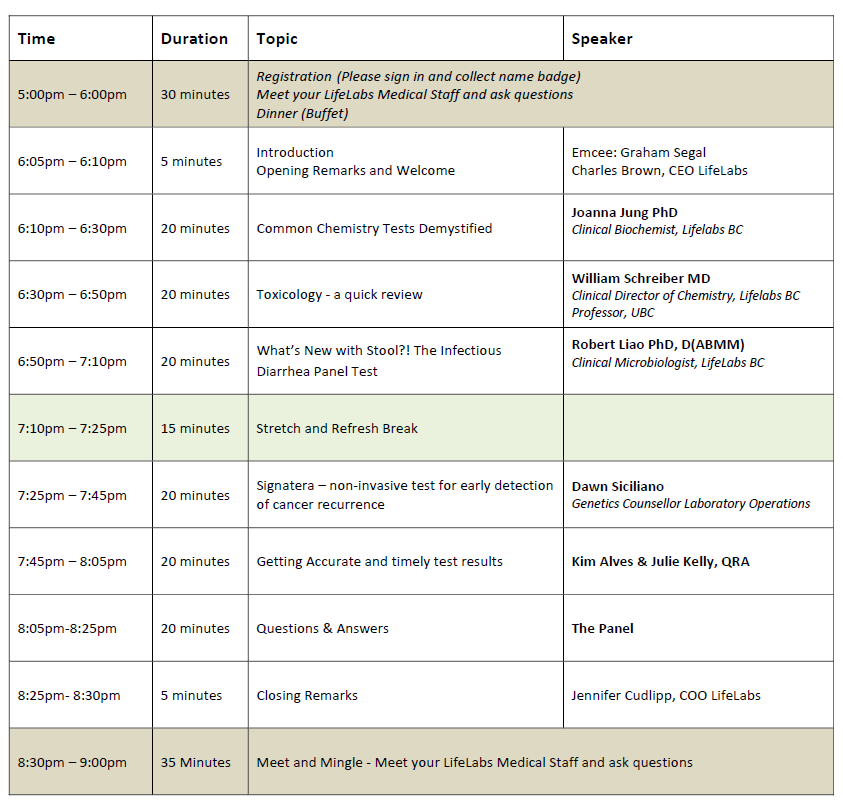 Let's all work together to Empower a Healthier You among Canadians! 
***For guest room requests outside of our block, OBBH is happy to extend a 15% discount at the time of booking. Attendees are welcome to book online or call OBBH reservations team directly at 250.598.4556. If booking online, use the discount code EVENT to receive the discount. If calling, please inform the reservation agent they are booking with LifeLabs and the discount will be applied. stay@oakbaybeachhotel.com.