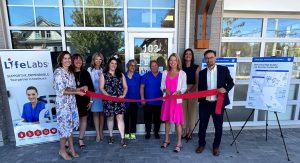 L-R: Erica Zarkovich – SVP Government Markets, Jennifer Cudlipp – Chief Operating Officer, Louise Nagy – Director Client Services, Darlene Rotchford – Councillor and Acting Mayor of the Corporation of the Township of Esquimalt, Claudia Barrueta-Martinez -Laboratory Assistant,  Renee Russell – Laboratory Assistant, Honourable Mitzi Dean – Minister of Children and Family Development and MLA for Esquimalt Metchosin, Dana Leblanc – Manager, Client Services, Vancouver Island, Thomas Marshall – VP Partnerships
Esquimalt, British Columbia. August 16, 2023 – LifeLabs, Canada's leading provider of medical diagnostic services and recognized as the most trusted brand in health diagnostic services by Canadians, is thrilled to announce the relocation and grand opening of its brand-new facility in Esquimalt, B.C.
"It's a privilege for us to share our knowledge and over six decades of experience with the Esquimalt community," said Charles Brown, President and CEO at LifeLabs. "Envisioning the celebration of this significant milestone alongside the community, we look forward to cultivating new and meaningful relationships with healthcare providers and customers, ultimately contributing to advancing healthcare standards."
" I'm grateful to see this expansion of the LifeLabs' Esquimalt Patient Service Centre," said Mitzi Dean, MLA for Esquimalt-Metchosin. "The extra room at the new location will help reduce wait times and improve patient services. Thanks to the team of health care professionals who worked to make this happen."
The Esquimalt Patient Service Centre (PSC), located at 103-474 Head St, Victoria, BC, promises an enhanced patient experience and convenient access for the local community. The hours of operation remain the same, Monday to Friday, from 7:30 a.m. to 1:00 p.m.
The new facility signifies LifeLabs' commitment to delivering high-quality services while prioritizing patient comfort and convenience. The facility boasts a spacious, welcoming waiting room to provide a comfortable, stress-free patient environment.
Patients visiting the Esquimalt PSC can expect the same compassionate, high-quality care as before. LifeLabs will continue to offer blood work and ECG testing and have added specialty test times for genetics and time-sensitive testing to ensure patients receive prompt, accurate results for critical diagnostic tests.
For more information about LifeLabs locations and services, please visit locations.lifelabs.com.
Quotes:
Darlene Rotchford, Councillor of Esquimalt
"My fellow councillors and I congratulate LifeLabs on the grand opening of their new home in Esquimalt. LifeLabs' new location represents an important step forward in improving healthcare accessibility for our community. I look forward to visiting their expanded space with a brighter and more welcoming environment."
About LifeLabs
LifeLabs is Canada's leading provider of laboratory diagnostic information and digital health connectivity systems, enabling patients and healthcare practitioners to diagnose, treat, monitor, and prevent disease. We support 20 million patient visits annually and conduct over 100 million laboratory tests through leading edge technologies and our 6,500 talented and dedicated employees. We are a committed innovator in supporting Canadians to live healthier lives, operating Canada's first commercial genetics lab, and the country's largest online patient portal, with more than 5 million Canadians receiving their results online. LifeLabs has been named one of Canada's Best Employers (2021, 2022 and 2023) and Best Employers for Diversity (2022 and 2023) by Forbes and recognized for having an award-winning Mental Health Program from Benefits Canada. LifeLabs is 100% Canadian owned by OMERS Infrastructure, the infrastructure investment manager of one of Canada's largest defined benefit pension plans. Learn more at lifelabs.com.
Media Contact: LifeLabs Media Team | Media@LifeLabs.com