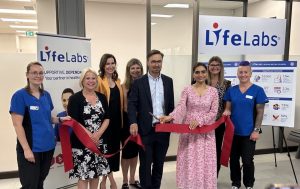 From L-R: Lindsay Paxson- Laboratory Assistant, Hon. Lisa Beare-Minister of Citizens' Services, Erica Zarkovich- Senior Vice President Government Markets, Louise Nagy- Director, Client Services, Thomas Marshall- Vice President, Government Partnerships and Contracts, Harwinder Sandhu- MLA for Vernon-Monashee, Nina Fournier- Supervisor Client Services, Lisa Smith- Laboratory Assistant 
Vernon, British Columbia. July 13, 2023 – LifeLabs, Canada's most trusted brand in health diagnostic services, is thrilled to announce the grand opening of its first Patient Service Centre (PSC) in Vernon. This exciting expansion of medical diagnostic services will enhance access to timely healthcare and provide a much-needed resource for the community.
 
"We are grateful for the warm welcome we've received from the community since opening our doors to our first customer," said Charles Brown, President and CEO of LifeLabs. "LifeLabs' expansive reach and access to health resources has been critical in our successful opening and will continue to be as we move forward. We are committed to listening and collaborating with local healthcare leaders, providers and customers to build lasting, trusted partnerships in this community."
The Vernon PSC is conveniently located within the Polson Place Mall at 2306 Hwy 6 and is open to customers from 8:00 am to 4:00 pm, Monday to Friday. The centre offers residents a wide range of services, including blood collection, Holter monitoring, and electrocardiography. Customers have an option to walk-in for same day service or book an appointment.  
 
"I'm so glad to welcome LifeLabs to our community with the grand opening of their Patient Service Centre in Vernon. In our initial meetings with LifeLabs representatives in Victoria with Health Minister Adrian Dix, I was able to underscore the needs of the people in Vernon-Monashee, so I am especially glad to welcome this asset to our community," says Harwinder Sandhu, MLA for Vernon-Monashee. "As a nurse, I know the importance of having timely access to diagnostic services, and I know this location will make a big difference to people in Vernon."
As part of its commitment to customer-centric care, LifeLabs offers customers access to MyCareCompass, a user-friendly digital health portal. MyCareCompass empowers individuals to view their results, book appointments, and navigate their health journey free of charge. With LifeLabs' extensive range of services, we encourage the community of Vernon to be empowered and take control of their health.
  For more information about LifeLabs locations and services, please visit locations.lifelabs.com.  
Quotes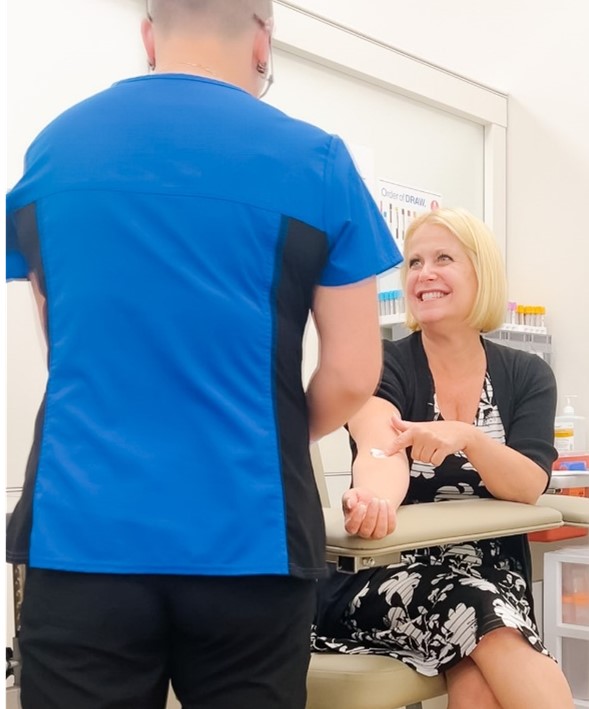 "I was happy to attend the grand opening of LifeLabs' newest location in Vernon this week alongside MLA Harwinder Sandhu. I was impressed by their professionalism and excited by what will be a positive impact to healthcare accessibility for people across the community. I am confident that LifeLabs will continue to provide vital healthcare resources for the residents in Vernon for many years to come."
– Hon. Lisa Beare, Minister of Citizens' Services
Minister of Citizens' Services Hon. Lisa Beare receiving blood test at Vernon LifeLabs
 About LifeLabs   
LifeLabs is Canada's leading provider of laboratory diagnostic information and digital health connectivity systems, enabling patients and healthcare practitioners to diagnose, treat, monitor, and prevent disease. We support 20 million patient visits annually and conduct over 100 million laboratory tests through leading edge technologies and our 7,200 talented and dedicated employees. We are a committed innovator in supporting Canadians to live healthier lives, operating Canada's first commercial genetics lab, and the country's largest online patient portal, with more than 5 million Canadians receiving their results online. LifeLabs has been named one of Canada's Best Employers (2021, 2022 and 2023) and Best Employers for Diversity (2022 and 2023) by Forbes and recognized for having an award-winning Mental Health Program from Benefits Canada. LifeLabs is 100% Canadian owned by OMERS Infrastructure, the infrastructure investment manager of one of Canada's largest defined benefit pension plans. Learn more at lifelabs.com.   
 Media Contact: LifeLabs Media Team | Media@LifeLabs.com