Toronto, April 22, 2023 – LifeLabs is known for its diagnostic services prioritizing the health and well-being of residents across Canada, but we also take great pride in our sustainability objectives. We understand that waste and pollution directly correlate to community health and our ecosystem. 
Over the years, LifeLabs formed partnerships and invested in programs and tools to reduce our environmental footprint. Here is just one example of our collaboration positively impacting the environment.
LifeLabs receives daily shipments from vendors that use soft-shell cold packs to cool lab materials during transport. Many vendors ship items such as reagents with cold packs to maintain a specific temperature to prevent properties from being altered as a regulatory and Quality Assurance and Quality Control requirement. These packs often go straight to the landfill. They are perfect for their purpose but have a short lifespan within LifeLabs.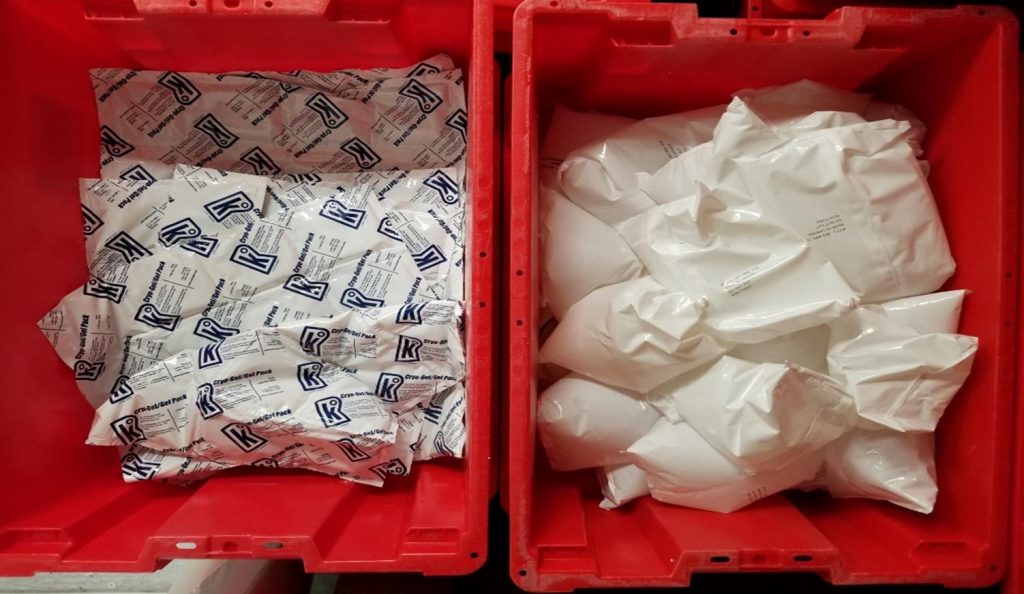 By researching ways to extend the life of these cold packs, LifeLabs' discovered Spud.ca and a partnership was born. Spud is a Canadian, B.C. based online grocery service focused on delivering sustainable and local products to make our food system more inclusive, equitable, and less wasteful!
Every week, LifeLabs donates approximately 300 cold packs (405 lbs.) to Spud from our B.C. laboratories to be repurposed! That's over 15,000 cold packs (11.7 tons) diverted from the landfill annually. We donate 90% of the packs we receive in our shipments. The remaining 10% is reused within LifeLabs or have been deemed unfit for reuse.
Spud sanitizes the packs and inspects them before using them to package customer orders to help keep products cool. Our partnership not only extends the life of the cold packs but also avoids adding new packs into the supply chain, reducing the overall increase in plastic consumption. 
"We are proud of the initiatives that paved the way for new partnerships and empowered our employees to change their behaviour toward sustainability," says Charles Brown, President & CEO at LifeLabs. "We want to continue on our journey of recycling and diverting waste from landfills. Our team has a lot of innovative ideas that we are excited to explore."
LifeLabs is the proud winner of Practice Greenhealth's Environmental Excellence Award five years in a row, reflecting our commitment to ensuring a healthier Canada for future generations. This recognition results from a collective number of initiatives and successes at LifeLabs. 
Implement a wastewater treatment system that removes contaminants from over six million liters of water annually, before it returns it to the municipal system.
Consolidate Biohazardous waste pickups, which removed 6,000+ waste hauler pickups and reduced over 50,000 kilometers from trucks on the road.
Collaborate with vendors to have trees planted as a carbon offset. Since 2021 LifeLabs has offset 756,533 lbs. of paper consumption by reforesting 9,102 trees.
Implement an organization-wide battery recycling program. 
Conduct climate change risk assessment to ensure we are considering future impacts.
Through community collaborations, staff empowerment, and implementing new technology that reduces waste, LifeLabs is fostering a culture of innovation to develop creative solutions across all aspects of the organization. 
To learn more about LifeLabs' sustainability efforts, visit our website, LifeLabs Sustainability