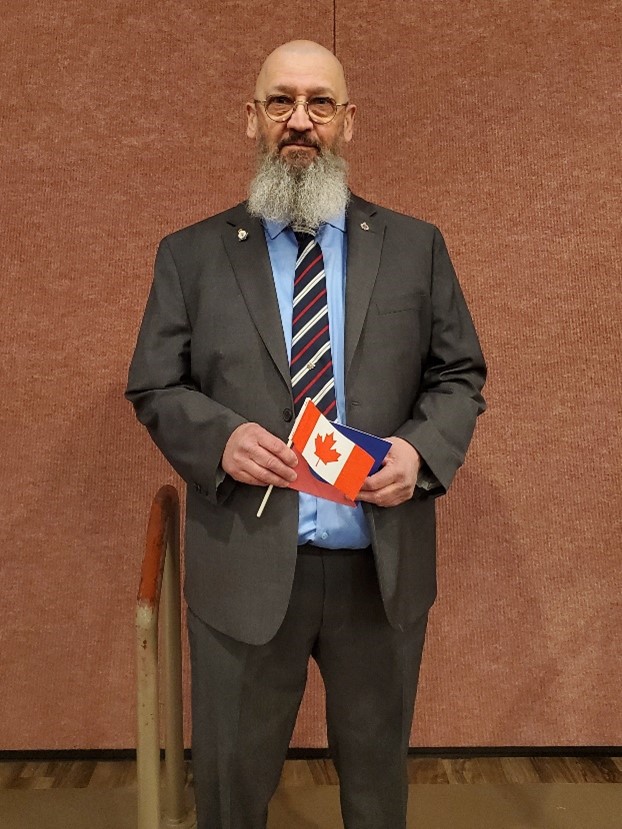 Albert (Steve) Lewis, a Materials Specialist in the department of Logistics in Saskatoon and a dedicated LifeLabs team member, recently accomplished a significant milestone that deserves a celebration. In March 2023, Steve became a Canadian citizen, marking a new chapter in his remarkable journey filled with determination, resilience, and a deep appreciation for his newfound homeland. As we celebrate Canada Day, we spotlight Steve, marking his path to Canadian citizenship!
Born on March 14, 1960, in England, Steve's life took an unexpected turn while driving semis and coaches all over Europe. During this time, he discovered Canada's need skilled long-haul drivers. Intrigued by the opportunity, Steve embarked on a new adventure and set his sights on Saskatoon, where he arrived in 2005.
Steve's profession as a long-haul driver made him discover that he wanted to make Canada his home. He needed to become a Canadian citizen. Recognizing that citizenship would grant him the right to vote and have a voice in shaping the country he had come to love, Steve initiated the process in 2008.
As with any significant endeavour, Steve faced challenges along the way. Being a long-haul driver meant he often fell short of the required residency days in Canada. However, this obstacle only fueled his determination to overcome the hurdles and stay true to his goal. Through patience, perseverance, and meticulous attention to detail in his paperwork, Steve steadily progressed toward his dream of Canadian citizenship.
On March 16, 2023, Steve's persistency and resilience paid off as he proudly became a Canadian citizen. While the acquisition of citizenship may not have brought about significant changes in his personal life, it granted him the privilege of casting his political vote, a powerful testament to his duty as a Canadian and respect for the democratic process.
When asked about his journey to Canadian citizenship and its impact on his life, Steve says, "Getting my Citizenship has not changed anything for me other than I can now Vote, nothing changed for me personally, and I still give 110% at my workstation."  At 63 years old, Steve believes that while Canada has undoubtedly influenced him, he was already shaped by his rich past experiences. He emphasizes that respect for others, regardless of religion, skin colour, or sexual preference, is paramount in fostering harmonious workplaces and communities.
For Steve, Canada is a land of boundless opportunities, where an outdoor culture thrives regardless of the weather. National holidays, like Canada Day, bring people together, fostering a sense of camaraderie and joy. From campsite gatherings to the famous Stampede in Alberta, Steve embraces the traditions and celebrations that unite Canadians from coast to coast.
Steve's journey to Canadian citizenship is a testament to his determination and the opportunities Canada offers. As we commemorate Canada Day, we join Steve in celebrating his newly acquired citizenship and thank him for his inspiring story and wish him continued success as a valued member of our team. Let's honour the diverse culture, values, and traditions that make Canada a truly remarkable place to call home. Happy Canada Day to all!
Stronger Together
LifeLabs' is grateful and inspired by Steve for sharing his story. The Diversity, Equity and Inclusion (DEI) journey at LifeLabs is to ensure that all individuals feel accepted, respected and valued. By fostering an equitable and inclusive culture for the team members, customers, and partners, our collective community benefit from understanding the unique perspectives and experiences.  The journey to reinforce DEI commitments has demonstrated that at LifeLabs, we are indeed Stronger Together.