The First-Ever Medical Laboratory in Town,
Bringing Advanced Medical Diagnostics to your Doorstep.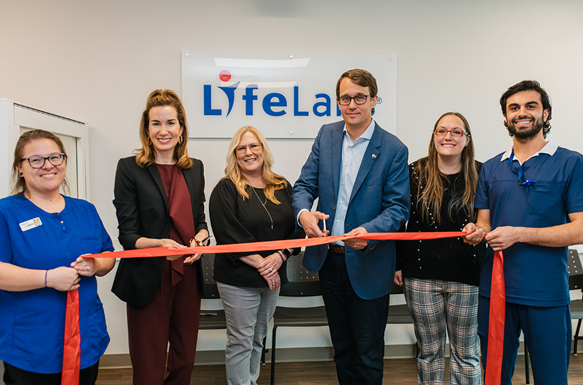 L to R:  Darcee Lumley, Erica Zarkovich, Bonnie Milhomens, MPP Monte McNaughton, Kayla Bannister, Ryan Abi Farraj
Komoka, Ontario. May 1, 2023 – LifeLabs, Canada's leading provider of medical diagnostic services and recognized as the most trusted brand in health diagnostic services by Canadians, is bringing care closer to home and expanding access to high-quality diagnostics tests for residents in Komoka, Ontario. The Komoka Patient Service Centre (PSC) celebrated its grand opening with the Hon. Monte McNaughton, Ontario's Minister of Labour, Immigration, Training and Skills Development and MPP for Lambton – Kent – Middlesex.
"We are excited to extend our expertise and over 60 years of experience to the Komoka community." said Erica Zarkovich, Senior VP of Government Markets at LifeLabs. "The opening of our new Patient Service Centre means residents will receive reliable, efficient and high-quality service without leaving the comforts of their community. This is an important step in LifeLabs' journey to continue to make diagnostic testing throughout Ontario accessible and equitable."
Our newest PSC is located at 9918 Glendon Dr.in Komoka, and will provide residents with access to blood collection, Holter monitoring and electrocardiography services five days a week.
"The opening of the first-ever diagnostic lab in Komoka is fantastic news for the community," said MPP McNaughton. "Our government is investing billions of dollars to make critical healthcare services accessible in every corner of our province. This LifeLabs centre complements that mission and will help patients focus on what matters most – their health."
The Komoka PSC is open Monday to Friday from 8:00 a.m. to 4:00 p.m. for appointments and walk-in services. All LifeLabs customers have access to MyCareCompass, a convenient digital health portal that allows customers to view results, book appointments and navigate their health journey, free of charge.
To learn more about LifeLabs locations, visit locations.lifelabs.com
About LifeLabs
LifeLabs is Canada's leading provider of laboratory diagnostic information and digital health connectivity systems, enabling patients and healthcare practitioners to diagnose, treat, monitor, and prevent disease. We support 20 million patient visits annually and conduct over 100 million laboratory tests through leading edge technologies and our 6,500 talented and dedicated employees. We are a committed innovator in supporting Canadians to live healthier lives, operating Canada's first commercial genetics lab, and the country's largest online patient portal, with more than 5 million Canadians receiving their results online. LifeLabs has been named one of Canada's Best Employers (2021, 2022 and 2023) and Best Employers for Diversity (2022) by Forbes and recognized for having an award-winning Mental Health Program from Benefits Canada. LifeLabs is 100% Canadian owned by OMERS Infrastructure, the infrastructure investment manager of one of Canada's largest defined benefit pension plans. Learn more at lifelabs.com.
Media Contact
LifeLabs Media Team