On-Arrival Airport Testing
On-site testing is available at Vancouver International Airport only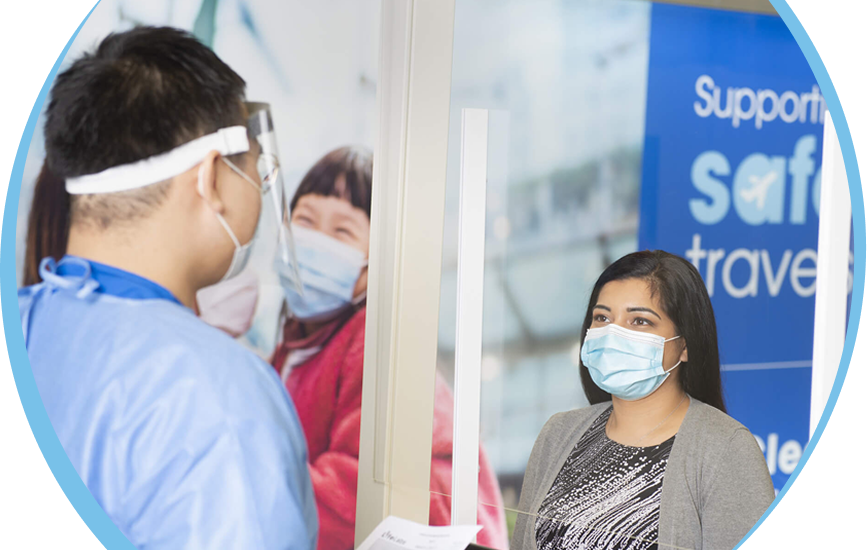 FlyClear™ by LifeLabs® is proud to work with Vancouver International Airport and Public Health authorities to provide Day 1 on-site testing at Vancouver International Airport and the COVID-19 Home Collection Kit for Day 8 testing.
Note:
Depending on your vaccination status or port of entry, you may receive a COVID-19 Home Collection Kit at the airport. 
If you pre-registered for on-site testing (available at Vancouver International Airport only) but instead received a Home Collection kit at the airport, you must register your kit online and book a virtual observation. Click here to register your kit and for more information.
How this works
Before arriving at Vancouver International Airport, please follow 4 simple steps.
FlyClear™

On-Arrival

Testing Process
Register for on-arrival testing
Registration can be done in advance of your flight to YVR.
Registration can be done once you land at YVR on your personal device.
Registration can also be done in-person upon arrival.
REMINDER: As of November 21, 2020, international travellers are also required to use the ArriveCAN app to submit a quarantine plan and contact info before departing for Canada. This is not related to registration for the arrivals testing program.
REMINDER: As of January 7, 2021, international travellers are also required to complete a COVID-19 test within 3 days prior to departure for Canada and show proof of negative test results before boarding the plane.
Complete your test at the airport
After exiting the customs hall and gathering your luggage, proceed to the testing area in your Terminal.
If you have already registered online, proceed to the 'Pre-registered' line and prepare to show your FlyClear registration ID and passport / Nexus card. If you have not registered in advance, proceed to the 'Test Registration' line or use your phone to register for the test.
Our staff will provide you a test requisition linked with your FlyClear™ ID.
With guidance from onsite staff, proceed to the arrivals test booth at the testing area.
Your sample will be collected and linked with your FlyClear registration.
After having your sample collected, you must immediately proceed to your quarantine location as mandated by the Government of Canada.
Quarantine and your test results
The requirement to book and stay in a government-authorized hotel has ended on August 9, 2021 for all travellers regardless of vaccination status.
Fully vaccinated travellers
You are not required to quarantine while you wait for your results.
Unvaccinated travellers
Immediately after completing the sample collection at the airport, you must begin your 14-day quarantine.
You will receive a notification from FlyClear™ when your test results are ready, typically within 48 hours.


Frequently Asked Questions FlyClear™ Support
If you have any questions or require support, please contact our LifeLabs Customer Support Centre