Community Report
2020
Standing Together,
Working Together.
We're stronger together – as an organization and as a community.
At LifeLabs, we've always believed that teamwork generates our best ideas and most impressive results. Recent events have reinforced the true importance of teamwork as a core value. Like all Canadians, we understand that treating each other with kindness, respect and patience is the only way to navigate these difficult times. We believe that our best hope in fighting COVID-19 is to work together, both within LifeLabs and in partnership with customers, governments and health care providers.
All of us Standing Strong
Events of the past year have heightened our awareness and deepened our commitment to diversity, equity and inclusion (DE&I). To truly live our values, we must include and respect all individuals and embrace their unique qualities, dimensions and characteristics. Our DE&I program, Stronger Together, builds on our organizational values of caring and teamwork, and through this, we are working to provide an environment where our people feel safe and supported. We celebrate the diversity of our colleagues and the communities we serve and have solidified our commitment through our Stronger Together pledge, which provides guiding principles for how we act and serves as a reminder for what we need to do to create meaningful change for the future. We are a proud Employer Partner with the Canadian Centre for Diversity and Inclusion (CCDI), an organization which provides extensive resources to help companies take action on diversity, equity, and inclusion in the workplace.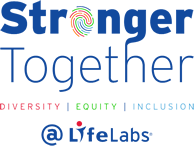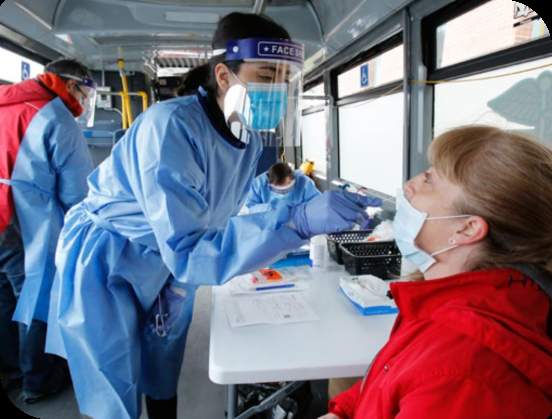 Ontario Ministry of Education Asymptomatic COVID Testing & Mobile Testing
The COVID-19 pandemic has presented unique challenges for our kids. With school closures, social isolation and dramatic changes to their daily routine, our children and youth have had to navigate these difficult times with a great amount of uncertainty and fear. To help provide peace of mind to students and their families, the Ontario Ministry of Education named LifeLabs as a lead partner in conducting asymptomatic testing for COVID-19 at Ontario schools. Keeping students and schools safe and healthy throughout the COVID-19 pandemic is vital to the overall wellbeing of our communities, and LifeLabs is honoured to support this important work.
Empowering Female Leaders with Minerva BC
Our President and CEO, Charles Brown, joined other Canadian business leaders in signing the Face of Leadership™ pledge. Spearheaded by Minerva BC, the Face of Leadership™ aims to advance gender diversity in organizations. By signing the pledge, LifeLabs has joined a community of business leaders that are working to attract, retain, and advance diverse female talent in their organizations. This important initiative is a key pillar of our Stronger Together program and commitment to diversity, equity and inclusion.