In 2021, Canadian communities remained in the grip of the pandemic and that's where we targeted our support. Our goal was to help Canadians live, work and travel safely.
Our teams came into work every day ready and willing to adapt to the latest changes. They donned PPE, guided our customers through new protocols, and made outstanding contributions to the broader health care system — all while continuing to provide our usual, trusted services under difficult circumstances.
As a team, we honed our ability to rapidly implement changes where needed to roles, technology, services, equipment and processes. We ramped up COVID-19 testing capabilities in five short days, early in 2020. Two years later, we had completed 5 million COVID-19 molecular tests for Canadians and their health care providers. Throughout 2021, we continued to expand on COVID-19 related services begun in 2020, including WorkClear™ and FlyClear™.
3 million+
COVID-19 tests completed in our labs
500,000+
travellers utilized our FlyClear offering
500,000+
Home Collection Kits distributed to travellers arriving in Canada
34
ontario patient service centres utilized to offer public health PCR testing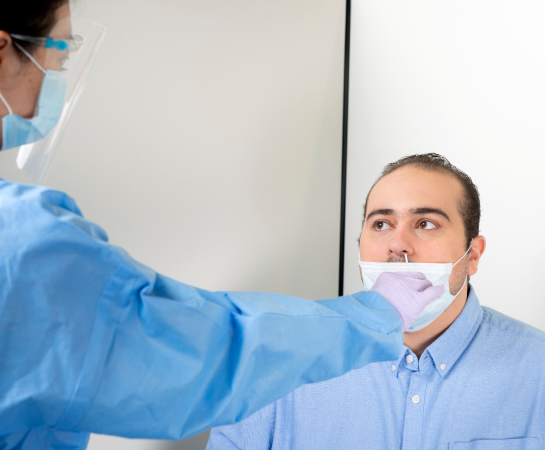 Helping Canadians manage daily life safely
If there was one phrase to describe working at LifeLabs during the pandemic, it would be "all hands on deck."
Our people worked tirelessly, often 24-7, to adapt to the fluid situation and meet the essential needs of our communities, starting with increasing the capacity of our labs so we could process and track results on enormous numbers of COVID-19 test samples.
As the pandemic intensified, we trialled COVID-19 collection services at one Patient Service Centre (PSC) near the Toronto Pearson International airport. With that experience, we felt confident in saying yes when Ontario Health asked for help to meet the high demand for COVID-19 sample collection in early 2021. At the peak of demand in 2021, 34 Patient Service Centres were offering this service. That's now been reduced back to three PSCs chosen on the basis of location to supplement public health assessment centres in the province, with the aim of making sure that all Ontarians can access testing close to home. COVID-19 sample collection appointments are scheduled after regular operating hours to ensure regular customers are protected from exposure.
In our PSCs through 2020 and 2021, our focus was keeping customers and employees safe. With fewer people allowed in waiting rooms, we introduced a new concierge role to help direct traffic flow and minimize inconvenience for customers. We added speed where we could by accepting electronic test requisitions. We also reduced the need for patients to wait in line by expanding appointment booking for services which previously were first-come, first-serve.
---
Helping Canadians work safely
As the COVID-19 situation shifts, Canadians need a safe, high-quality COVID-19 testing solution that can be managed in community settings such as small businesses and arenas.
In 2021, we saw an opportunity to provide this solution, building on our successful experience with WorkClear™, an end-to-end COVID-19 management solution for large employers. The result is ClearPass™, which provides reliable, on-site COVID-19 testing support for schools, sporting events and more, through a partnership with Fionet Rapid Response Group. Fionet supplies an automated testing device that is compact, easy to install and can process approximately 60 tests per hour, at the same level of quality and reliability that was previously available only in large laboratory facilities. Fionet's devices are integrated with LifeLabs' services and laboratory information system, to provide a one-stop solution that includes procurement of supplies, biohazardous waste disposal, test scheduling, results reporting, and public health tracking.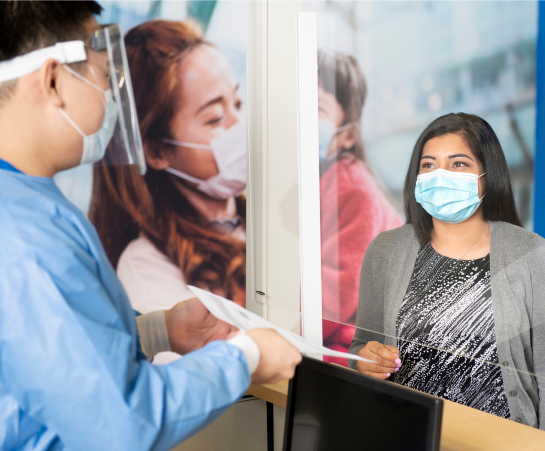 ---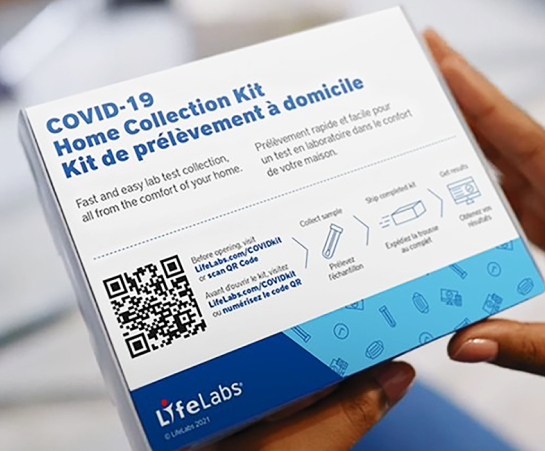 Helping Canadians travel safely
The pandemic created significant stress for Canadians who needed to travel. LifeLabs wanted to help Canadian travellers stay safe by providing rapid COVID-19 testing prior to departure.
In 2020, we partnered with Shoppers Drug Mart to launch FlyClear™, offering pre-departure testing in Ontario and British Columbia. Initially, we guaranteed a 48-hour turnaround on pre-flight COVID-19 tests; we were quickly able to reduce that to 24 hours. In the spring of 2021, we expanded FlyClear™ to on-arrival testing for travellers landing in Canada at Vancouver International Airport, Canada's second-busiest air travel hub.
By mid-2021, we were ready to innovate further. Working with the Public Health Agency of Canada, we began providing 'virtually observed' self-testing services for travellers entering Canada through air and land borders in B.C. These services allow travellers to use pre-packaged kit to collect their own test samples, with guidance provided by a LifeLabs expert via video conferencing, to ensure the sample was correctly obtained.
To make this work we had to build an end-to-end service that included electronic registration; delivery or curb-side pickup of the kit; virtual appointments with a technician to guide the sample collection; courier collection or drop-off of the sample; and secure, electronic results reporting within 72 hours.
Diverse teams from across LifeLabs (Information Technology, Marketing, Lab Operations, Customer Services and Logistics) collaborated closely to knit the pieces together.
Within two weeks of launch, we were able to expand this service and offer it to international travellers crossing land borders in Saskatchewan and the Yukon. Earlier this year, we expanded this service further to all border crossings in Ontario, including Pearson International Airport. In mid-2022, on-arrival testing was moved to off-site locations, and we engaged our Patient Service Centres in kit distribution and drop-off services, to provide a convenient, accessible testing solution as travel volumes began to return to pre-pandemic levels.
---
Continuing to strengthen cybersecurity
Throughout the COVID-19 pandemic we have seen increased reliance on virtual and digital health care options, and throughout this past year, we have continued to provide improved digital services to more than five million registered Canadian users of our online customer portal.
However, this increase in demand for digital services serves as a reminder that we must continue to be vigilant to stay ahead of cyber criminals.
In early 2021, LifeLabs entered into a partnership with Bugcrowd, the leading crowdsourced cybersecurity platform, to implement a Vulnerability Disclosure Program (VDP). The VDP uses the latest in cybersecurity research to further strengthen cybercrime detection across LifeLabs' online tools, apps and solutions. Bugcrowd's research community will work with LifeLabs to swiftly detect and close off vulnerabilities in our systems, protecting our customers' health care data from new threats as they arise. The VDP is also a key step toward achieving ISO 270001 certification — an industry gold standard in information security. LifeLabs is one of the first health care organizations to work directly with the security research community in order to stay ahead of cyber criminals.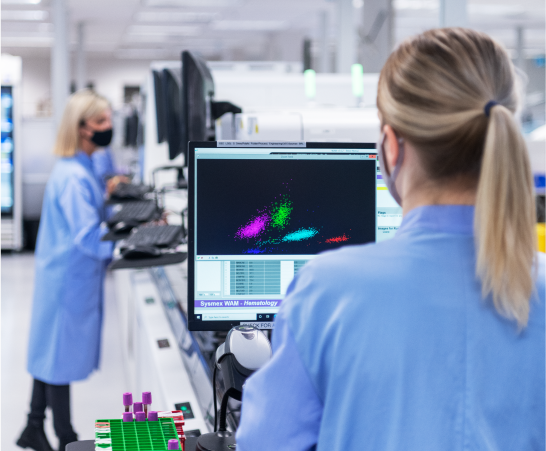 ---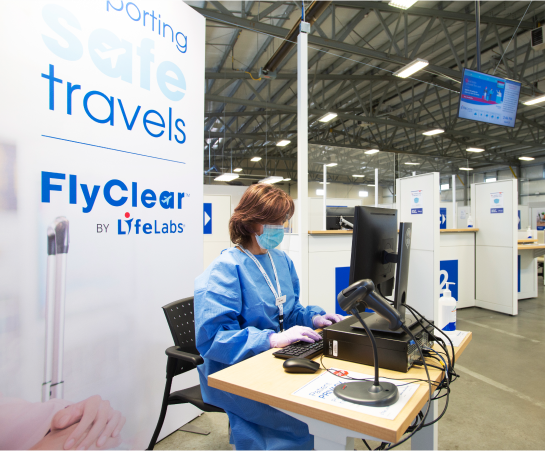 Living our Values • customer-centric
A logistical miracle helps stranded travellers
Imagine arriving at Toronto Pearson International Airport for a 2 a.m. flight to Hong Kong, only to find that within the last 24 hours the entry requirements had been changed, and your COVID-19 rapid test is no longer acceptable.
That was the situation faced by hundreds of travellers, one day in June 2021. Our customer-centric people at LifeLabs wanted to help. Individuals from many different teams across the company put their heads together with airline partners to find a solution. They pulled out all the stops to re-test as many customers as possible in the time available, providing a 6-hour turnaround time on results. For several days they continued to pull off logistical miracles for travellers flying out of both Toronto and Vancouver, pushing test samples for Hong Kong-destined passengers through an ultra-rapid turnaround. Said one grateful customer, "I successfully made it to Hong Kong because of the speedy and responsive updates the team has provided me, including their willingness to help me."
---
Living our Values • AGILITY
Jumping in to help Saskatchewan deliver vaccines
For much of 2021, the nation was focused on efforts to get all Canadians fully vaccinated. Our logistics team in Saskatchewan was proud to play a role in making this happen.
Recognizing LifeLabs' logistical experience and resources, the Saskatchewan Health Authority (SHA) requested our help to transport and deliver COVID-19 vaccines. The team sprang into action with agility, quickly adjusting delivery schedules and routes to accommodate the additional work. They rapidly adapted to the special treatment required to transport these life-saving packages: The vaccines must be carefully packaged on dry ice, strapped in with a seatbelt to keep them from moving, and delivered within a specific timeframe. Coordinating closely with the Saskatchewan Health Authority and escorted by RCMP officers, the LifeLabs logistics team made deliveries for 5 months to help make sure the people of Saskatchewan had access to vaccinations. LifeLabs staff were proud to be part of this urgent effort to protect Canadians' health. "We felt that we were part of a significant moment in history," said Derek Clark, Senior Manager of Logistics and Customer Services in Saskatchewan.