Skip to main content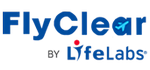 In-Person Collection
You can visit participating COVID-19 testing locations to complete an in-person sample collection.
Follow the steps below to complete in-person collection:
1. Register​
Before you proceed with on-arrival testing, you MUST complete your kit registration.​ ​
Please log in or create an account in FlyClear portal using the button below to begin the process!
NOTE: Your collection MUST be monitored by a LifeLabs technician or a designated onsite collector to be valid, and kits MUST be registered to connect results back to you.​ Failure to do so will result in your specimen being rejected and could create a delay to when you can legally end your quarantine.​
2. Find a location​
Enter your postal code or city below to find a participating location near you
Note for in-person collection:
You must bring your FlyClear order ID (LL#) found in your confirmation e-mail.
Bring the

travel document

you used to complete your ArriveCan registration for identification.
If you received a kit, please bring the kit to the participating location for in-person collection. If you don't have a kit, the testing location will have kits available.
In-person Collection locations
You can visit one of the following dedicated LifeLabs COVID-19 testing locations, conveniently located near YYZ and YVR:
6900 Airport Rd, Mississauga, Ontario

60

84 Russ Baker Way, Richmond, British Columbia
Alternatively, enter your postal code or city to find additional locations near you. 
Parking lot, 18 Lower Jarvis St, Toronto, ON M5E 1N1, Canada
Special Collection Service
(Available for customers in British Columbia, Ontario, Saskatchewan and Yukon)
If you did not qualify for a video consultation, contact our LifeLabs Customer Support Centre at
+1 877-313-4982 to arrange for an alternate collection service.